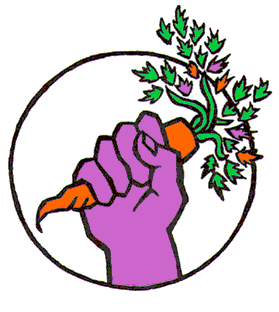 Richmond Food Not Bombs has been sharing food in Monroe Park for over sixteen years now. We have developed many connections and friendships over the course of our existence, helped provide healthy food to many individuals who may not have had access to it otherwise, and become a staple of social activity for many people's Sunday afternoons.
http://www.thewingnutrva.wordpress.com
The proposed renovations to Monroe Park are an attack , a judgement on who the park should and shouldn't be for. It is an attack on the homeless, the "homeless-appearing" (whatever that means - it's in the Monroe Park Advisory Council's renovation plans), and groups and individuals who don't judge people by their social status or whether they have conventional means of acquiring shelter.

http://www.monroecampaign.wordpress.com
Come join us on Oct 24, 4pm at Monroe park to view a movie on the future of the park!
Other events!
- Friday Oct, 22nd 6pm vegan pot luck and 7pm lecture at The Friends Meeting house 4500 Kensington Ave. (344-4356)